To approach this statuesque squash, cut in half crosswise, then cut each half again lengthwise. You can cut in smaller pices to fit your pan. Scoop out seeds and place the quarters face down on a lightly oiled baking pan. Bake at 375 degrees approximately 45 minutes, depending on size, until tender, the skin is beginning to char and blister, and it is completely pooped. Be sure you use a rimmed pan because these squash are juicy. You will have lots to freeze for future use. If you don't care for pumpkin pie you will probably love Candy roaster pie.
Once the squash is cool enough to handle, scoop out all the flesh from the rind. If desired, puree in a blender until smooth.
Pies are the traditional use of these squash and I have experimented with a few different flavor combinations. The one that seems most popular in my circles, is this one. It is very simple and lets both the delicate flavor and the beautiful golden color of the squash shine through.
2 Tbsp. flour
1 tsp. vanilla
3 Tbsp. melted butter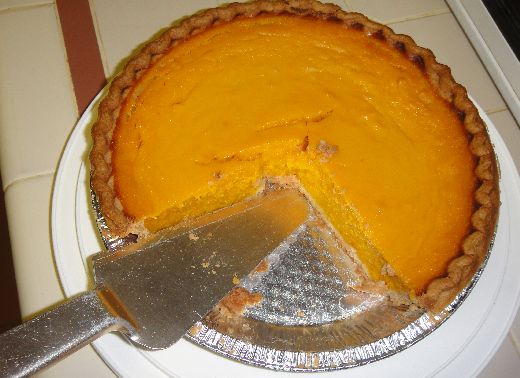 =====================================================================================================================
CANDY ROASTER PUFF
1 1/2 c. cooked candy roaster, mashed with a little butter
1/3 c. sugar
Pinch of salt
2 eggs
1 1/2 c. milk
1/2 tsp. vanilla
Sprinkle of nutmeg and cinnamon
Mix all ingredients together well and turn into buttered quart casserole. Bake at 325 degrees until set, approximately 45 minutes. NOTE: A Candy Roaster is a member of the pumpkin family, but has a much more delicate flavor and does not have the stringy texture. It is indigenous to the mountains and comes in all shapes and sizes. Cut up into chunks, it freezes very well. No blanching necessary.
------------------------------------------------------------------------
CANDY ROASTER BUTTER
1 gallon candy roaster, cooked and mashed
3 cups sugar
¼ cup lemon juice
¼ cup cinnamon
1 tablespoon cloves
1 tablespoon nutmeg
1 tablespoon ginger
2 cups apple cider
1 box Sure-Jell
Mix all of the ingredients except the Sure-Jell. Bring to a boil and cook for a minute. Remove and add the Sure-Jell. Place in sterilized jars. Melt paraffin and spoon a thin layer atop the butter.
----------------------------------------------------------------------------------
CANDY ROASTER CAKE
Ingredients:
2 C. flour
1 tsp. cinnamon
1 tsp. pumpkin pie spice
1 teaspoon baking soda
1 teaspoon salt
1 3/4 cup fresh candy roaster
1-2/3 cups granulated sugar
1 cup canola oil
4 eggs
Instructions:
Preheat oven to 350 degrees.
Whisk all the flour, spices, baking soda, and salt together in a bowl and reserve to add into the wet mixture next.
Mix all the following ingredients together(eggs, sugar, oil, and pumpkin) in the mixer and then slowly add in all of the dry ingredients.
While this is all mixing take a 13 X 9 Cake pan and oil it and sprinkle sugar and cinnamon in the pan until it is coated finely and evenly.
Bake at 350 degrees for 30 minutes.
The cake part of this recipe is amazing but it's the frosting that completes this recipe!
Cream Cheese Frosting (This is just your basic easy cream cheese frosting recipe)
8 ounces low-fat cream cheese, at room temperature
½ cup butter, softened
3 cups powdered sugar
1 tsp. vanilla extract I try to use pure extract
Mix all ingredients together until creamy and spread on cake just after it is slightly cooled. This is a very moist cake so it can be a little difficult to frost so just make more frosting if you have any issues
Sprinkled cinnamon on top and place pecans evenly on top of the cake (optional)
-------------------------------------------------------------------------
Candy Roaster Cookies
1/3 cup shortening
1 1/3 cup sugar
2 eggs
1 cup cooked punkin (Candy Roaster!)
1 teaspoon vanilla
1 teaspoon lemon juice
1 teaspoon grated lemon rind
1/4 teaspoon ginger
1/4 teaspoon allspice
1 teaspoon nutmeg
1 teaspoon cinnamon
1 cup raisins
1/2 cup chopped nuts (I used pecans but want to use black walnuts!)
2 1/2 cup self rising flour
Cream shortening and sugar; add eggs one at a time and mix well after each.
Add candy roaster ,vanilla, lemon zest, lemon juice, ginger, allspice, nutmeg, and cinnamon-mix well.
Add raisins and nuts mix well.
Add flour and mix until combined. Drop onto a greased cookie sheet and bake at 400 degrees for 10-15 minutes until golden brown.
---
Click Here For Candy Roaster Seed
Click Here Back To Wrights Heirloom Vegetables
Click Here 80 Varieties Hard To Find Heirloom Pole Bean Seed
Click Here Pole Bean Images